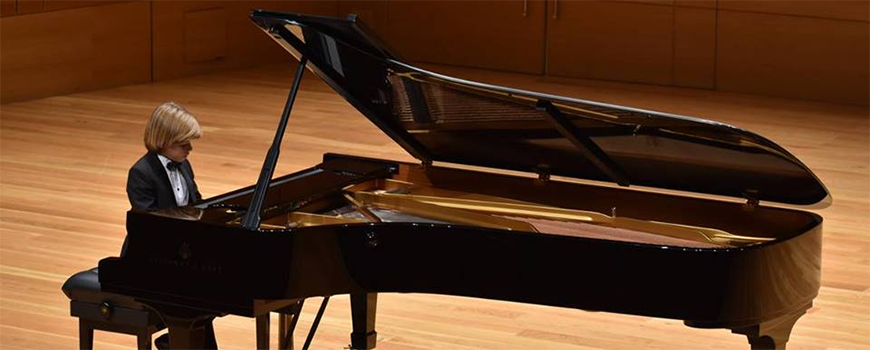 10-year-old piano virtuoso receives worldwide attention
Young piano virtuoso composes own compositions
Ten-year-old Guillermo Hernández Barrocal has received worldwide attention for his piano compositions. When he was nine, he performed the first movement of a sonata that he composed by himself. It was performed at the UAX University in Madrid, Spain, a city where he also teaches piano.
How did this young virtuoso get into piano? He says, "I was always entangled at home to look for things that would entertain me, reading history, origami, the cube of rubick…until one day my parents proposed me to start teaching piano. I loved the idea and here we are!"
Guillermo says he plays many hours each day. "During the week I study piano at home. After doing the homework of the school (which is a jiji roll) I play two or three hours every day. Then on the weekend I go to Madrid to teach," he claims.
He's learned from some of the best pianist in Europe, including Leonel Morales, Vincenzo Balzani and Amy Gustafson. "In class I'm preparing the pieces that my teacher tells me to learn and also to submit to competitions. It's a way to make an effort because I know that in competitions we have to go to the maximum! Going to contests is great! I have already been able to know cities such as Granada, Madrid, Segovia, Brussels. My parents and my sister always accompany me and we had a great time," he claims.
The young pianist has won many competitions, including first prize in the 1st International Piano Competition of Leganés in Category A; Category A at the Maria Herrero International Competition held in Granada; Category A in the Alameda Park Young Talents Competition held in Valladolid; Category A in the Santa Cecilia Contest organized by the D. Juan de Borbón Foundation held in Segovia and then second prize Category A in the César Franck contest held in Brussels.
You can find out more about Guillermo at Facebook.