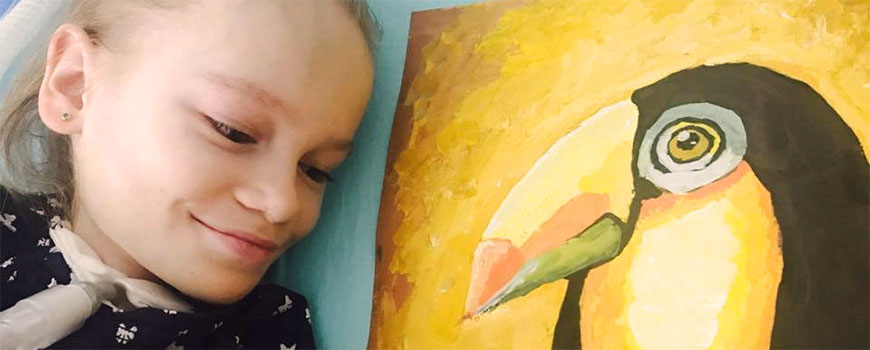 11 Year Old Girl Doesn't Let Disease Stop Her From Painting
KURDISH
کچى تەمەن 11 ساڵان رێگا نادات نەخۆشیى رێگای پێبگرێ لە کردارى وێنەکێشان
منداڵى بچووک ئازار دەچێژێت لە دەست نەخۆشى ئێسکەنەرمە
کەیت بورودولکینۆى تەمەن یانزە ساڵان لە شارى مۆسکۆ، رووسیا ئازار دەچێژێت لە دەست نەخۆشى ئێسکەنەرمە، ئەو نەخۆشیەى کە ژیانى ئاسایی منداڵ دەگۆرێ، لەو ساتەوەى کە تەمەنى چوار ساڵانە لە رێگاى بۆرى دەستکرد هەناسەدەدات. سەرەراى ئەوەى ناتوانێت بڕوات تەنانەت ناتوانێت قۆڵەکانیشى بڵند بکات، حەز و ئارەزووى بووەتە وێنەکێشان.
کەیت بە کردار دەتوانێ هەرچى بیەوێت وێنە بکێشێت لە کردارى سەرنجراکێشانى ئاژەڵەکان بۆ لاى خۆى تاکو وێنەکێشانى دیمەنى سروشتى رەنگاورەنگ. هونەرەکانى ئەو کچە لە پێشانگاکان نمایشدەکرێت.
خێزانەکەى وێبسایتێکیان دامەزراندن بۆ ئالوگۆرکردنى چیرۆکى ئەزموون و کۆسپەکانى کەیت. لەو وێبسایتەدا پۆستەکانى وێنە، ڤیدیۆ و بڵاوکردنەوەى یادەورى بوونیان هەیە کە ژیانى کەیت لەگەل نەخۆشى تۆماردەکەن. لە بڕى ئەوەى رێگە بە نەخۆشیەکە بدەن بێ ئومێدیان بکات، دایکى کەیت هیواى دەخواست یارمەتی خەلکى تر بدەن لە رێگەى ئالوگۆرکردنى ئەزموونیان.
دايكى دەنووسێ "ئێستا وێباسیتەکەمان نوێکردۆتەوە، هیواخوازیى ئالوگۆرکردنى ئەزموونمانین لەگەل ئەو کەسانەى کە پێویستیان پێیە. سوپاس بۆ خوا، نەخۆشى ئێسکەنەرمەى زگماک باوترین هێرش نیە، بەڵام بۆ ئەوانەى کە رووبەرووى ئەو نەخۆشیە بوونەتەوە، کۆمەلێک پرسیار هەیە کە کەم خەڵک وەڵامەکان دەزانن. لەگەڵ ئەوەشدا ئێمە دلۆپێک لە دەریا دەزانین، بەڵام با پێکەوە دەستپێبکەین و زانیارى کۆبکەینەوە بۆ ئەوەى منداڵەکانمان دووچارى پەککەوتن نەبن.
سەرەراى ئالوگۆرکردنى شارەزایی، حەزدەکەم هەست بە تەنیایی نەکەم لەم دونیایە، هەست بە کۆسپەکان و بە دیتنى خێرایی دیاریکراو نەکەم بەرەو چاوەکان.
*****************************************************************************
ARABIC
فتاة عمرها 11 سنة لا تدع المرض يوقفها عن الرسم
طفل صغير يعاني من ضمور العضلات
عانت کیت بورودولکینوى البالغة من العمر 11 عاماً من موسكو ، روسيا من ضمور عضلي ، وهو مرض يغير طريقة الحياة المعتادة لطفل ، منذ سن الرابعة ويتنفس عبر أنبوب. على الرغم من عدم قدرتها على المشي أو حتى رفع ذراعيها ، تتابع شغفها بالرسم.
تستطيع كيت رسم أي شيء عمليًا من الحيوانات المحببة إلى المناظر الطبيعية الملونة. وقد عرض فنها في صالات العرض.
أقامت عائلتها موقعًا على الويب لمشاركة قصة كيت حول المحاكمة والضيق. هناك صور ومقاطع فيديو ومشاركات مدونة توثق حياة كيت بالمرض. وبدلاً من ترك المرض ينهار ، تأمل والدة كيت أن تساعد الآخرين من خلال مشاركة خبراتهم.
"الآن قمنا بتحديث موقعنا على شبكة الإنترنت ، على أمل أن نشارك تجربتنا مع أولئك الذين يحتاجون إليها. الحمد لله ، الحثل العضلي الخلقي ليس هو الهجوم الأكثر شيوعا ، ولكن بالنسبة لأولئك الذين يواجهون هذا ، هناك العديد من الأسئلة التي لا يعرفها سوى عدد قليل من الناس الإجابات. نحن نعرف أيضا قطرة في البحر ، ولكن دعونا نجمع ونجمع المعرفة ، حتى لا يعاني أطفالنا من عجزنا.
"بالإضافة إلى تبادل الخبرات ، أود أن أشعر بأنني لست وحديًا في هذا العالم ، لا أشعر بالحواجز وألا أرى السرعة المخصصة للعيون".
*****************************************************************************
ENGLISH
Young child suffers from muscular dystrophy
Eleven year old Kate Borodulkinoy from Moscow, Russia has suffered from muscular dystrophy, a disease that changes the habitual way of life for a child, since the age of four and breathes through a tube. Despite not being able to walk or even lift her arms, she pursues her passion of painting.
Kate can practically paint anything from endearing animals to colorful landscapes. Her art has been exhibited in galleries.
Her family set up a website to share Kate's story about trial and tribulation. There are photos, videos and blog posts documenting Kate's life with the disease. Instead of letting the disease get them down, Kate's mother hopes to help others by sharing their experience.
"Now we have updated our website, hoping to share our experience with those who need it. Thank God, congenital muscular dystrophy is not the most common attack, but for those who are faced with this, there are many questions to which few people know the answers. We also know a drop in the sea, but let's get together and accumulate knowledge, so that our children do not suffer from our helplessness," she writes.
"In addition to the exchange of experience, I would like to feel not alone in this world, do not feel the barriers and not see quick allotted towards the eyes."