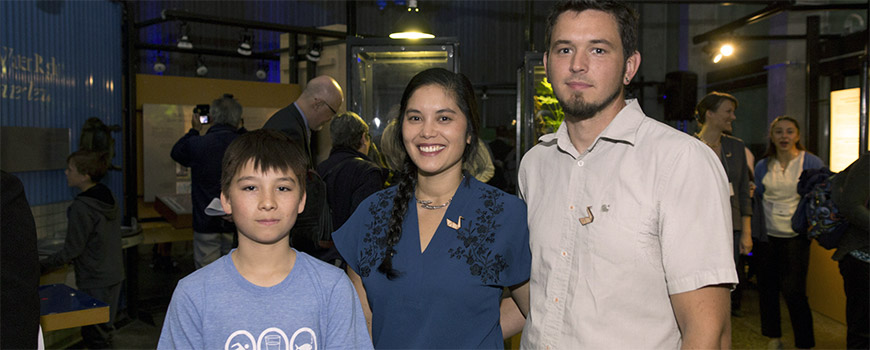 12 year old creates origami art display
Deep Blue aims to educate the public about the fragile ecosystem of 
Lake Ontario
Twelve year old Daniel Ranger has created a unique origami art project on display at the Ontario Science Centre in Toronto. Deep Blue is a stunning collaborative art installation comprised of more than 2000 origami swans, carp, bass, sturgeon and turtles, depicting the bathymetry of majestic Lake Ontario. Ranger, who is a Great Lakes Trust junior ambassador in Ontario, Canada, created the project as part of the Great Art for Great Lakes initiative to celebrate Canada's sesquicentennial.
"As our visitors created origami for Deep Blue, they engaged in conversations about the importance of Lake Ontario to our region – from recreation to the economy – and the environmental threats and challenges it faces," states Maurice Bitran, Ph.D., CEO and Chief Science Officer, Ontario Science Centre. "Art and science intersect in Deep Blue, deepening our appreciation for the beauty of Lake Ontario and our understanding of the correlation between the health of the lake and the vitality of the people who live on its shores."
From water quality to climate change, Lake Ontario faces many varied threats. In creating Deep Blue, Labspace Studio, a Toronto-based artist collective and creative studio, aims to educate the public about the fragile ecosystem of Lake Ontario and to inspire positive action that will protect and restore this precious freshwater resource.
"As socially-engaged artists, we are honored to be part of Great Art for Great Lakes, an ambitious, multi-city initiative that enables lakefront communities to connect and reflect on the importance of Lake Ontario in their daily lives through art," says John Loerchner and Laura Mendes, co-directors of Labspace Studio. "Hundreds of thousands of people come to the Ontario Science Centre annually. We hope Deep Blue will inspire the public – particularly youth – to take the environmental action necessary to safeguard the health and ecology of the Great Lakes."
Labspace Studio and Daniel Ranger encouraged visitors' input by conducting two origami workshops in the Science Centre's Inventorium, curiosity-driven space that encourages play, creativity and collaboration. Using folding instructions based on designs of Lake Ontario species created by Ranger, visitors were invited to contribute to the installation by making origami shapes. Using geodata, Labspace Studio suspended the origami shapes to map the lake's depth, terrain and form, resulting in an extraordinary three-dimensional representation of Lake Ontario.
"We want to celebrate the grandeur and importance of the largest group of freshwater lakes on Earth," says Karen Kun, co-founder of Greatness — the Great Lakes Project. "It is crucial we connect with the Great Lakes so we can understand and safeguard them for our current and future quality of life. Local artists are collaboratively creating works of art with local residents to honor the Great Lakes, share their stories and mark Canada's sesquicentennial."