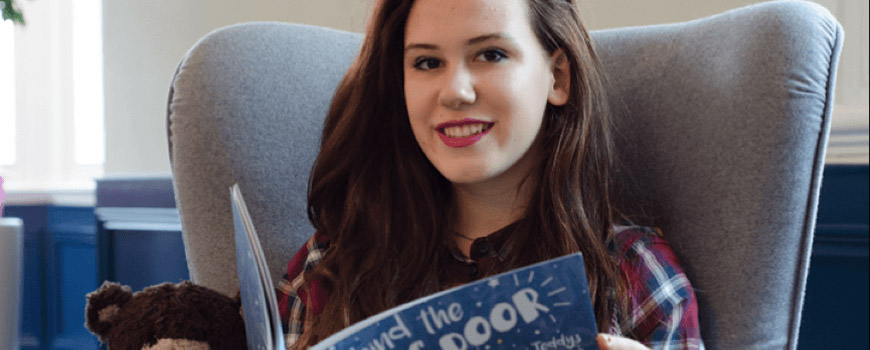 15 year old creates personalized children's book
A 15-year-old Greater Manchester, England schoolgirl has created a concept personalized children's book where each story is unique to the child's name. Available in 23 countries, Nicole Warriner's book has a strong international appeal.
Behind the Magic Door, by Warriner, will take readers on a beautiful, personalized adventure to rescue the letters of their own name – discovering their creativity, imagination and curiosity throughout the story.
As a budding children's author, Warriner wanted to create a magical world for her readers to enjoy whilst also supporting each child as they learn to read. Imagination and identity sits at the heart of Behind the Magic Door.
"I have loved books ever since I can remember – my passion for reading grew nearly as fast as my bookshelf and I would spend hours and hours lost in a magical land," Warriner states. "I am still an avid reader and I have been so inspired by books that I wanted to share my passion with others – what better way than writing my own magical adventure?"
The big difference with Behind the Magic Door is that it is a personalized story for children, helping them to read and also learn about key traits such as honesty, bravery and kindness. Warriner is particularly proud that she has managed to take the personalization to the next level including:
Featuring the child's name on front cover
Each child's name results in a unique story based on the letters of their name
You get to pick the adventurer that most resembles your child (three choices)
Your child's name is shown on the Magic Door at the end when they complete their adventure
Customers can also insert their own printed dedication making it a great gift / keepsake
"It's the enhanced personalization that makes it so special. It's still early days yet, but shipping to so many countries and already seeing lots of repeat customers has been amazing," Warriner says. "We've had nearly 100 reviews so far with 99% of them being 5*."
Warriner's ambition is to share magical bedtime stories to as many children around the world as possible. Each book even comes with a free bedtime reading guide to help readers get the most of the book's interactive features (like hidden characters and a repeated paragraph for shared reading).
The book is available through the book's website which provides customers with the opportunity to create and view a full book preview before buying. They also include free worldwide delivery.