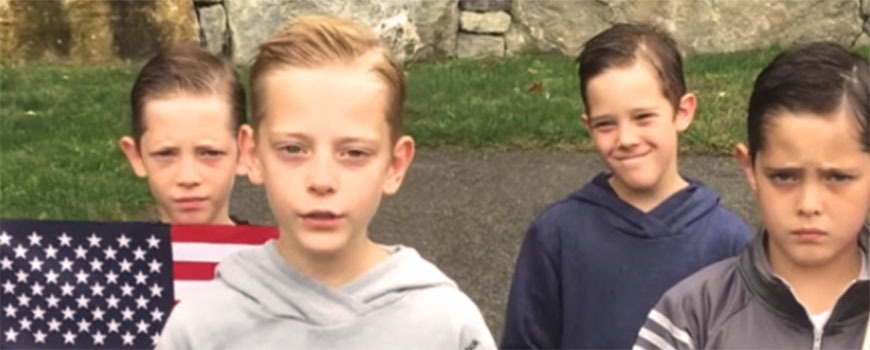 8 Year Old Quadruplet Band Releases Unity Single
Z-N8tion releases "Flag" to celebrate America's diversity and freedom
In a time of great social division amongst Americans, Z-N8tion, the first-ever band of quadruplet brothers, is bringing positivity back into the world with their newly released music video for their first single "Flag." Z-N8tion is made up of eight-year-old quadruplet brothers, Bekim, Damien, Lukah, and Maxmimus Zherka. Raised in Westchester County, New York, Z-N8tion is a band whose message is as much positive as it is entertaining for their fans.
"Flag," the group's newly released single and music video, celebrates America as a place of unity and diversity rather than division and hatred. The video is dedicated to people of all religions, nationalities, and races. The song is a way for the band to promote their positive messages as part of their personal initiative to curb bullying in all forms.
The boys' father, mentions that after the birth of their daughter Luciana, he and his wife struggled to conceive more children. After nine rounds of IVF treatments, their mother finally became pregnant with the quadruplets. Now, says their father, the boys have gained a positive mindset and want to share their message of unity with the world.
Positive messages have remained a core component of Z-N8tion's music. Their first eponymous music video featured the boys advising kids to stay in school, while their music is a voice for those who've been bullied or chastised for being themselves. Luciana, the boys' 11-year-old sister, also appears in the "Flag" music video and helps Bekim write the lyrics with the input of the other brothers. Currently, the beats used for their music are produced by Porterhouse Media in California.
As the first ever quadruplet boy band to have such a positive influence on young kids, they reference issues ranging from immigration, to empathy, and tolerance. Combining their passion for martial arts and contact sports, they became passionate about promoting these issues. Their goal is to donate ten percent of whatever they make to St. Jude's Hospital.
The group will be the first boy band to continuously tout a philanthropic mindset in their work by putting their money where their mouths (and voices) are. It may come as a surprise for many, but it seeks to empower fans of all backgrounds to empower others.