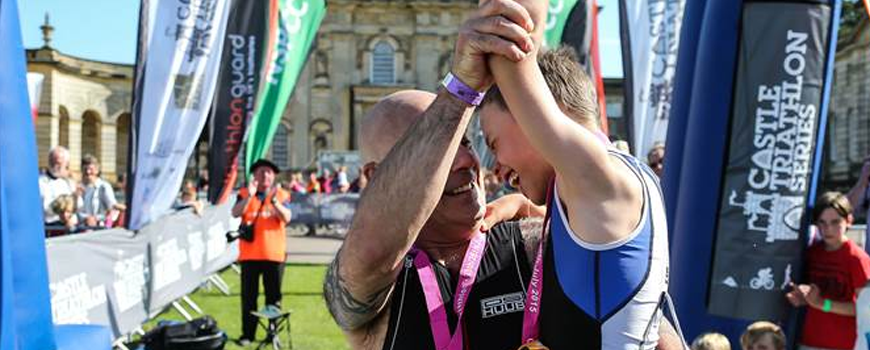 8-year-old with cerebral palsy finishes triathlon
Kurdish:
مندالێکى تەمەن 8 ساڵانى تووشبووى شەڵەل دەماغ کۆتایی هێنا بە چالاکى تریاثلون
چالاکى تریاثلون دەکرێ رووداوێکى ماندوکەر بێت بۆ تازە پێگەیشتوویەک بەڵام بۆ منداڵان کەمێک ئاسانترە, بۆیە سەرسورمانى ناوێ کە منداڵێکى ئینگلیزى تەمەن 8 ساڵانى تووشبووى شەڵەڵ دەماغ ببێت بە سەرچاوەیەکى سروشى نێودەوڵەتى بۆ ئەو رێچکەیەى کە پیایدا پەریوەتەوە لە هێڵى کۆتایی.
سەدان تەماشاکەر هاواریان دەکرد و خۆشیان دەردەبرى ساتێ ئەو نزیک دەبوویەوە لە کۆتایی پێشبرکێیەکە, بەیلى ماثیوز وازى لە ڕەوڕەوە هێنا و بە بێ هاوکارى دەستى کرد بە رۆیشتن بەرەو هێڵى کۆتایی. دوو جار کەوت, بەڵام هەموو کات خێرا هەڵدەستایەوە و بەردەوام دەبوو لەسەر رێگاى خۆى هەروەک باوکى ڕەوڕەوەکەى لە دواى خژۆڵ دەکردەوە.
جولی هاردکاسل, دایکى کورەکە بە رۆژنامەى "یۆرکشایەرپۆستى" گوت: " دەتوانيت دەموچاوى بچووكى ببينيت كاتێك دێت و هەمووان دەبینى, ئەوە رێگاى ئەو بوو لە کۆتایی هێنان لە شێواز وە نیشاندانى بە هەموو خەڵک کە دەتوانێت چى بکات"," ئەوە وەڵامى ئاپۆراى خەڵکە بوو کە هانیان دەدا بۆ ئەنجامدانى ئەم کارە"
بەیل توانى کۆتایی بهێنیێت بە چالاکى مەڵەوانى لەسەر دەریاچە بە درێژایی 100 مەترى, 4 کیلۆمەتر هاژووشتنى پایسکیل و 1.3 کم راکردن پێش پەرینەوە لە هێڵى کۆتایی لە قەڵاى تریاثڵەن لە وێرکشایەر, ئینگلتەرا.
Arabic:
8 سنوات من العمر مع الشلل الدماغي التشطيبات الترياتلون
يمكن أن يكون الترياتلون حدث مرهق للبالغ ، ناهيك عن الطفل ، لذلك لا عجب أن يصبح إنجليز البالغ من العمر 8 سنوات مع الشلل الدماغي مصدر إلهام دولي للطريقة التي عبر بها خط النهاية.
هتف عليها مئات المتفرجين عندما اقترب من نهاية السباق ، تخلت بيلي ماثيوز عن مشيته وبدأت تتجه نحو العتبة نحو خط النهاية. لقد سقط مرتين ، لكنه استيقظ في كل مرة واستمر في طريقه بينما كان والده يلف الوشي خلفه.
" وقالت جولي هاردكاست والدة الصبي لصحيفة "يوركشاير بوست": يمكنك أن ترى وجهه الصغير عندما جاء ورأى الجميع؛ كانت والدته ، جولي هاردكاست ، قالت لصحيفة يوركشاير بوست: "هذه كانت طريقته في التشطيب فی الاسلوب وإظهار الجميع لما يمكن أن يفعله". "لقد كان الرد من الحشد الذي دفعه للقيام بذلك."
وقالت جولي هاردكاست والدة الصبي لصحيفة "يوركشاير بوست": "يمكنك أن ترى وجهه الصغير عندما يحضر ويرى الجميع ؛ كانت تلك هي طريقته في التشطيب بأسلوب أنيق وإظهار الجميع لما يمكنه فعله". "لقد كان الرد من الحشد الذي دفعه للقيام بذلك."
أكمل بيلي سباحة على بحيرة بطول 100 متر ، وركوب دراجة 4 کیلومتر ، و 1.3 كيلومتر رکض قبل عبور خط النهاية في Castle Triathlon في يوركشاير ، إنجلترا.
English:
A triathlon can be a grueling event for an adult, much less a child, so it's no wonder an English 8-year-old with cerebral palsy has become an international inspiration for the way he crossed the finish line.
Cheered on by hundreds of spectators as he approached the end of the race, Bailey Matthews ditched his walker and began heading unassisted toward the finish line. He fell twice, but immediately got up each time and continued on his way as his father rolled the walker behind him.
"You can see his little face when he came round and saw everyone; that was his way of finishing in style and showing everyone what he could do," the boy's mother, Julie Hardcastle, told The Yorkshire Post. "It was the response from the crowd that pushed him to do that."
Bailey finished a 100-meter lake swim, a 4k bike ride and a 1.3k run before crossing the finish line at the Castle Triathlon in Yorkshire, England.