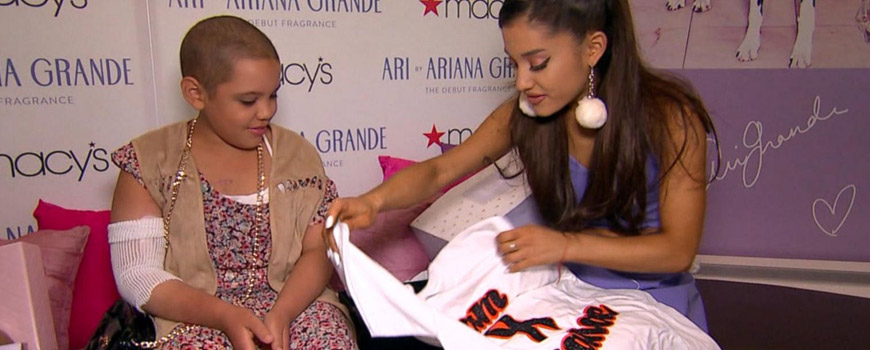 Ariana Grande Grants Wish of Girl with Cancer
Danae Kirklen, a 9-year-old with a rare form of cancer, got to see her favorite pop star, Ariana Grande, in concert thanks to Macy's Believe Campaign and the Make-A-Wish Foundation.
The young child from Michigan has Philadelphia Syndrome, a rare form of leukemia, and has spent a lot of time in the hospital, including an entire year without leaving. However, music, specifically Grande's music, has helped Danae get through the tough times.
"I always want to listen to Ariana Grande because it helped me calm down … and not worry as much as I could," Danae tells ABC's Good Morning America (GMA).
GMA was there the day Danae found out the Make-A-Wish Foundation had granted her wish to meet the 22-year-old Grande.
Just a few days later, Danae was in New York City. She traveled in a stretch limousine to Macy's Herald Square, where she received a makeover and a new outfit.
She went to a concert and was in the front row to see Grande sing the songs she loves so much. Then, she had a private meeting with Grande. The moment was everything the girl had hoped it would be.
"You're so strong. And so beautiful. And so cute!" Grande told the girl.
"Thank you," Danae replied.