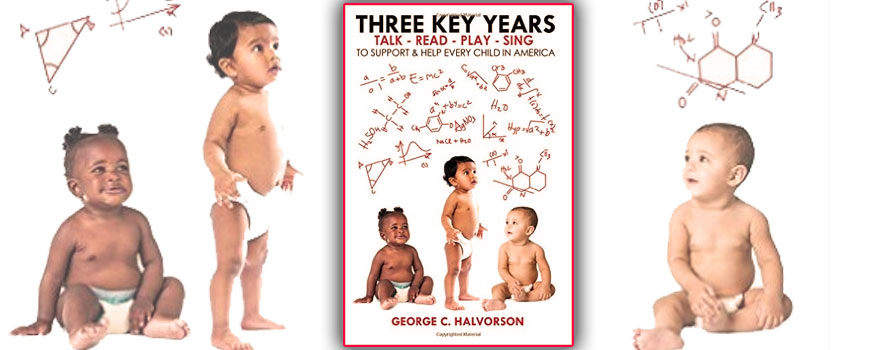 Brain Development Expert Says Reading Critical for Infants and Youngsters
First 5 California's Commission Chair George Halvorson has written a new book, Three Key Years, in which he discusses the groundbreaking findings regarding the critical importance of talking, reading, and singing to children from birth in order to boost brain development.
Halvorson, who also serves as Chair and CEO of the Institute for InterGroup Understanding, an organization dedicated to solving issues of ethnic and racial conflict and the learning gaps in American schools, reveals statistics in his book that show significant gaps in brain development between children who have the benefit of parents and caregivers who regularly interact with them verbally versus those children who are isolated in their first three years.
"Children whose brains are exercised in the first three years by parents or caregivers who talk, read and directly interact with each child have stronger brains," said Halvorson. "The brains of children who are isolated and who do not get that needed exercise in those first three years, when their brain growth is more than 80 percent completed, are at a major disadvantage. It is extremely difficult to regain that ground for those children once those first key years have passed."
Halvorson's book also indicates that high-income homes average 12 books per child, while more than half of the lowest income homes and more than half of the daycare facilities for the lowest income children, do not have any books. Halvorson illuminates additional statistics showing that adults in higher income homes read to their children more than 1,500 hours per child between birth and kindergarten, while adults in the lowest income homes read fewer than 30 hours to their children during those same years.
"We know why those gaps exist," said Halvorson. "That is why the First 5 California campaign Talk. Read. Sing. is so important. Our goal is to reach all the moderate-and-low income parents and caregivers in California with this message."
Three Key Years explains what caregivers and communities can do to change the lives for each child and remove these learning gaps.