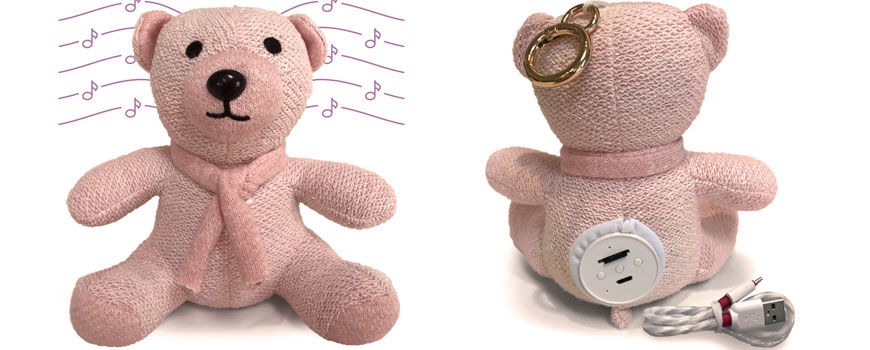 Breakthrough Development of Music for Better Baby Sleep
Music featured is desired by parents to mask outside noises for undisturbed rest
Most moms play either a sound machine or Mozart-like music for their baby's sleep. Baby Acoustics' Sound Asleep Music Bluetooth Bear has brought these two concepts together with breakthrough research on what works best for baby ears for repeatable and measurable sustained slumber. Baby Acoustics' music is designed by frequency and decibel modification to help brain/ear development to help baby sleep. Baby Acoustics provides an ideal combination of the most popular nursery songs with real instrument sounds with sounds of nature and heartbeats integrated within the music, desired by parents to mask outside noises for undisturbed rest.
Janet Marlow, Sound Behaviorist and Internationally renowned composer, is Founder of BabyAcoustics.com, a subsidiary of Pet Acoustics Inc., a global pet product company. Marlow's success in the pet industry offers the baby market, Sound Asleep Music Bears that come in four color choices: Lavender, Mint, Rose and Vanilla. Each bear comes pre-loaded with 13 tracks of the most popular nursery rhymes tuned for baby ears. Bluetooth feature gives Mom a choice of any other of her baby's favorites for home, car, carriage walks, pediatrician visit and daycare.
Other features include auto repeat mode with four hours of battery playback and non stop play when plugged into a wall and USB charging cable.
Songs included are "Twinkle, Twinkle Little Star," "London Bridge," "Kumbaya," "Over the Rainbow," "Are You Sleeping," "Greensleeves," "You Are My Sunshine," "Danny Boy," "Brahm's Lullaby," "Mary Had A Little Lamb," "Swing Low Sweet Chariot" and "Ocean Waves."