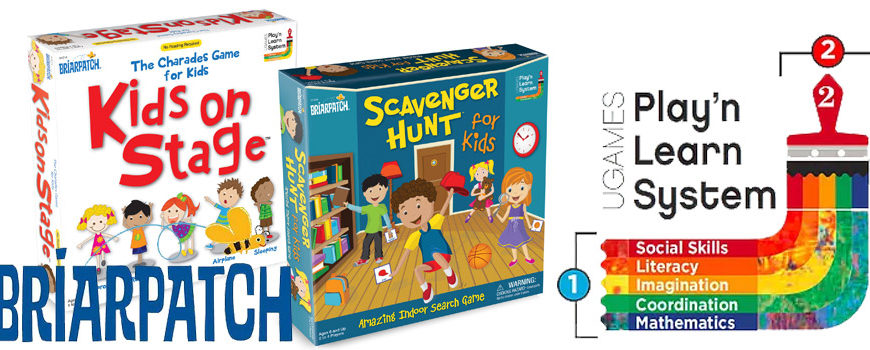 Briarpatch's Play n Learn System games teach kids
University Games' Briarpatch brand, the leader in preschool board games for more than 20 years, continues to provide inspiring, educational and fun games. Briarpatch's proprietary Play 'n Learn System is the only learning-focused game system to provide milestones to parents in terms of key developmental areas for children.
Among the games are:
Kids on Stage: The Charades Game for Kids (ages 3+)
The perfect first game for active three-year olds. Each player takes a turn acting out animals, objects or actions while the other players guess. Encourages imaginative skills.
Daniel Tiger's Neighborhood Welcome to Main Street Game (ages 3+)
Based on the PBS hit, join Daniel Tiger and friends on a journey through Main Street. Players fill their backpacks with unique gifts from Baker Aker's bakery, Music Man Stan's music shop and other locations along Main Street. Encourages social skills.
Shimmer and Shine Genie Friends Forever Game (ages 3+)
In this cooperative game, based on the popular Nickelodeon™ show, players join Shimmer, Shine, Tala and Nahal as they work together to decorate a dazzling gift for their best friend, Leah. Encourages social skills and cooperation.
Scavenger Hunt for Kids (ages 6+)
It's the amazing indoor search game for kids! Players have two minutes to search for silly stuff like a purple shirt, a funny hat and other items around the house. Reinforces literacy skills and vocabulary.
These games are part of the Briarpatch portfolio of classic games, including Monkeys Jumping on the Bed, Pete the Cat Groovy Buttons Game and The Very Hungry Caterpillar Spin and Seek ABC Game.
The backbone of the Briarpatch brand is the company's Play 'n Learn System, which helps parents understand the developmental aspects of each game.
Briarpatch is the trusted expert in fun and original games that support a child's key learning and developmental milestones. Founded in 1992, Briarpatch has won nearly 400 prestigious awards for quality learning content. The cornerstone of the brand is the Play 'n Learn System, which introduces key learning skills to children, including Literacy, Mathematics, Social Skills, Coordination and Imagination.
The system is built around three ability levels, with a rich curricular offering at each level. Each category is identified by a colored paintbrush with that skill level listed.