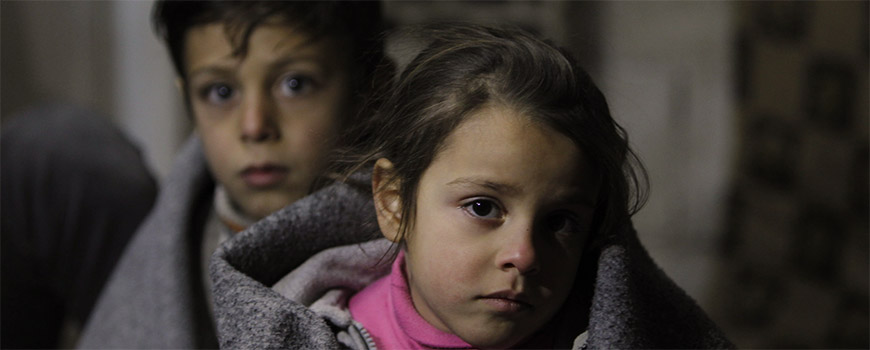 Children at risk as winter approaches the Middle East
With winter just days away, millions of children affected by the ongoing conflicts in Syria and Iraq are facing a winter without warm clothing and heating, UNICEF warns. The UN agency for children emphasizes that many children already live on the brink, internally displaced within their own country or living as refugees in neighboring countries. Forced to flee their homes with little or no possessions, these families are increasingly vulnerable to the freezing temperatures and storms common to the region where UNICEF is responding.
"Not only have families seen their homes destroyed and incomes and savings wiped out from years of conflict, but now they have to worry about staying warm through snowstorms, flooding and strong winds without the shelter, clothing or heating they need to survive," said UNICEF Chief Program Officer Meg French. "Children shouldn't be cold while they sleep, nor while they go to school. If anyone knows how crucial it is to stay warm in the winter, it's Canadians."
Temperatures already cooling
Temperatures across the region are already cooling and in just days, the first wintry chills and freezing rain could be sweeping the region. UNICEF is working around the clock to purchase and deliver winter clothing and supplies to 2.5 million children both inside Syria and Iraq and those who have taken refuge in Egypt, Jordan, Lebanon and Turkey. The priority is to reach the most vulnerable children, including the youngest, poorest and those living in besieged or hard to reach areas.
"These children have already survived the worst of the worst. They've seen their families and friends killed in the fighting; they've lost their homes and their possessions," said French. "We need to make their suffering stop. We need to fulfil our duty to protect every child and help them stay warm this winter."
UNICEF will provide children with gloves, hats, shoes, socks, scarves and thermal blankets – the bare minimum needed to protect a child from the cold. This includes 740,000 thermal blankets to children in Syria, winter clothing kits for 64,000 children in Jordan, and school heating and winter uniforms for 21,300 internally displaced children in Iraq.
UNICEF will also provide families with cash assistance and vouchers to address the most urgent needs of their children and provide heaters to schools. This support is in addition to ongoing programs in health, education, water and sanitation and protection, which continue to reach millions of children inside Syria and throughout the region.
UNICEF appealing for $82.4 million
To meet these immediate winter needs of children across the six affected countries, UNICEF is appealing for $82.4 million. To date, just $10.9 million has been received.
"The Government of Canada and Canadians themselves have already shown so much generosity in response to the ongoing conflicts in Syria and Iraq and the refugee crisis, but we can't stop now," said French. "Let's make sure that no child endures a winter without the protection and warmth they need to survive and thrive. I encourage Canadians in these final days before winter starts both here in Canada and in Syria, Iraq and the surrounding region, to support UNICEF's work to reach these vulnerable children and their families."
Canadians can help by purchasing UNICEF Survival Gifts in the name of a loved one this holiday season, and sending life-saving supplies like emergency blankets and vaccine pack to the children who need them the most.