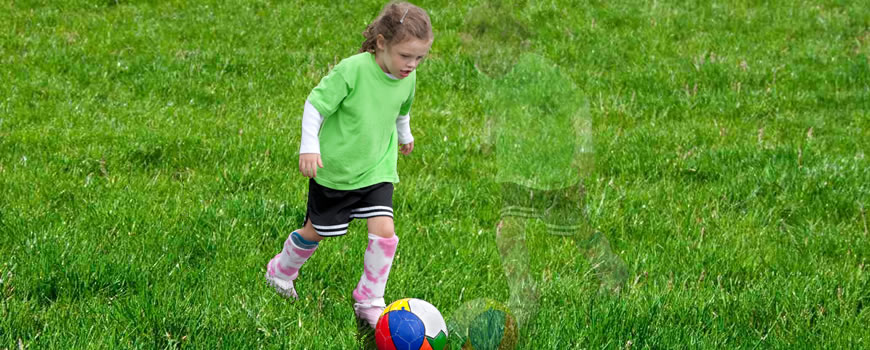 Coaching Your Own
Kurdish:
مەشقى پێکردنى تایبەت بە خۆت
باشترین رێگا چى یە بۆ بەسەربردنى کات لەگەل منداڵەکەت بە بەراورد لەگەڵ پێکەوە بەشدارى کردن لە تیمى وەرزشى؟ بریار بدە بۆ وەرگرتنى رۆڵى (راهێنەر) ساتێ کورەکەى یان کچەى خۆت یارى دەکات لە تیمى خوڵى بچووک- کە بریتى یە لە تێکەڵەى تەواوى خۆشى و رێککارى. بەڵام هەروەک زۆربەرى راهێنەرى دایک یان باوک دەتوانن شاهیدى لێبدەن, کە چەندەها گرفتى شاراوە هەیە بۆ مەشق پێکردنى منداڵەکەى خۆت. ئەمانە چەند ئامۆژگارییەکن بۆ مەشق پێکردنى منداڵەکەى خۆت بە شێوەیەکى بەرپرسانە:
– ئەنجامدانى یارى بە شێوەى دادپەروەرانە: دڵنیا بە لەوەى کە بە شێوەیەکى دادپەروەرانە مامەڵە لەگەڵ منداڵەکەى خۆت دەکەى, بە بێ ئەوەى تەنیا هەوڵى لەناوبردنى کاتى یاریکردنى لەگەڵ بدەى لەبەرئەوەى تۆ دەترسى لەوەى تەنیا تێیبروانێ.
– راستگۆ بە: هێشتنەوەى هێڵى کراوەى پەیوەندى لە نێوان ئەندامانى تیم و دایک و باوکانیان.
– بە یەکسانى ستایشیان بکە: دڵنیا بە لەوەى کە ستایشى یەکە بە یەکەى منداڵەکان دەکەى لەسەر توانا تایبەتیەکانیان.
– چارەسەرکردنى نانۆکیەکان بە خێرایی: مەهێلە ناکۆکیەکان درزى تێبکەوێت. بارودۆخە زیانبەخشەکان چارەسەر بکە بە بریارى خێرا و کۆتایی. یارى بکەن.
لەیادت بێت لە یاریگا منداڵەکەت بەشێکە لە تیم و ئەوان پێویستیان بە مامەڵەکردن هەیە وەکو ئەندامانى ترى تیم. بە مامەڵەکردن لەگەڵ منداڵەکەت بە شێوەیەکى دادپەروەرانە, تۆ تەنیا رێزگرتن لە تیم بەدەست ناهێنى بەڵکو رێزى منداڵەکەشت بەدەست دەهیننى. لە کۆتاییدا, لە بیرنەکەى کە شەپقەى راهێنەریت فرێبدەى کاتێ دەگەرێیتەوە ماڵەوە. ئەوە لە وانەیە وانەیەکى زەحمەت بێت بۆ هەردووکتان بە درێژایی رێگا, بەڵام بە پەیرەو کردنى ئەو ئامۆژگاریە باوە هۆشمەندانە, مەشق پێکردنى منداڵى خۆت تۆزێک ئاسانتر دەبێت.
Arabic:
التدريب الخاص بك
ما هي أفضل طريقة لقضاء الوقت مع طفلك من المشاركة في فريق رياضي معًا؟ قررت أن تأخذ دور "المدرب" بينما يحصل ابنك أو ابنتك على فريق الدوري الصغير – وهو مزيج مثالي من المرح والانضباط. ولكن ، كما يشهد معظم المدربين الأبوين ، هناك الكثير من التحديات الخفية لتدريب طفلك. إليك بعض النصائح لتدريب طفلك بطريقة مسؤولة:
– اللعب عادلا: تأكد من أنك تعامل طفلك بشكل عادل ، دون أن تقوض وقته في اللعب فقط لأنك تخاف من الخضوع للفحص والتدقيق.
– كن صادقا: الحفاظ على خطوط الاتصال مفتوحة بين أعضاء الفريق وأولياء أمورهم
– اعطي الثناء بنزاهة: تأكد من إعطاء كل طفل مديحًا لقوته الخاصة.
– حل النزاعات بسرعة: لا تدع الخلافات تتفاقم. حل المواقف الضائرة بقرار سريع ونهائي. العب!
تذكر أنه في الميدان ، يكون طفلك جزءًا من فريق ويجب عليه أن يعامل مثل أي عضو آخر في الفريق. من خلال التعامل مع طفلتك بشكل عادل ، فإنك لن تكسب فقط احترام الفريق ، ولكن أيضًا لطفلك. أخيرًا ، لا تنس أن تخلع قبعة مدربك عندما تعود إلى المنزل. قد يكون هذا درسًا صعبًا على طول الطريق ، ولكن من خلال اتباع هذه النصائح السليمة ، يمكن أن يصبح تدريب طفلك أسهل قليلاً!
English:
What better way to spend time with your child than participating in a sports team together?  You decide to take on the role of "coach" while your own son or daughter gets to play on the Little League team – the perfect combination of fun and discipline.  But, as most parent coaches can attest, there are a lot of hidden challenges to coaching your own child.  Here are a few tips for coaching your child in a responsible manner:
– Play fair:  Make sure you treat your own child fairly, without undermining his or her playing time just because you are afraid of being scrutinized.
– Be honest:  Maintain open lines of communication between the team members and their parents
– Give praise equitably:  Make sure you give each child praise for his or her particular strengths.
– Resolve conflicts quickly:  Do not let disagreements fester.  Resolve adverse situations with a swift and final decision.  Play on!
Remember that on the field, your child is part of a team and that he or she needs to be treated just like any other team member.  By treating your own child fairly, you will not only earn the respect of the team, but that of your child as well.  Finally, don't forget to take off your coach's hat when you get back home. It may be a tough lesson for both along the way, but by following these common sense tips, coaching your own child can become a little bit easier!