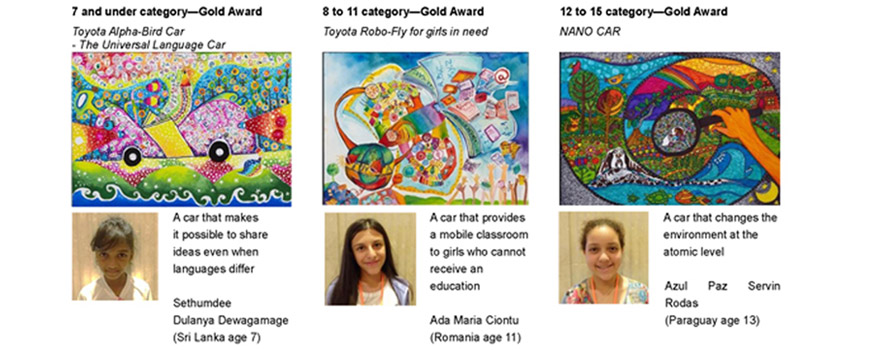 Future Toyota Cars Dreamed Up by Children
What if cars could spread the benefits of education, alter the surrounding environment on an atomic level, or even break down language barriers?
Most adults would dismiss such notions as wishful thinking, but sometimes it pays to think with the boundless imagination of a child. After all, it's not so long ago that a car fueled by water or a plane powered by the sun were considered science fiction. Who knows when the gap between fantasy and reality could be bridged next?
Since 2004, Toyota has asked children from around the world to put their creativity to work in creating their Dream Cars. The results range from the impressively practical to the downright unusual, but most importantly they all show abundant imagination, and they are all unique. Not only do they give inspiration on what new cars to make, they also remind Toyota the kind of responsible global citizen it should be: whether it be helping little girls learn to read in Romania or conserving the environment in Paraguay.
The response to the 2015 contest was overwhelming: Toyota received a record total of over 875,000 artworks from 81 countries and regions. National Contests were held until March 2015, with selected entries progressing to the World Contest in May 2015. World Contest entries were judged by Toyota President Akio Toyoda and a panel of outside experts in art and automotive science, and winners were invited to Japan for the award ceremony in August.
Gold awards were given to children from Sri Lanka, Romania, and Paraguay across three age categories. In addition, the newly-created Engineering Inspiration Award (selected by Executive Vice President Mitsuhisa Kato) and a special award selected exclusively by President Akio Toyoda were presented to exclusive winners.
93 artworks consisting of one or more entries from each of the regional contests worldwide (including all award-winning entries from this year's world contest) are being posted on the campaign website as animated illustrations.