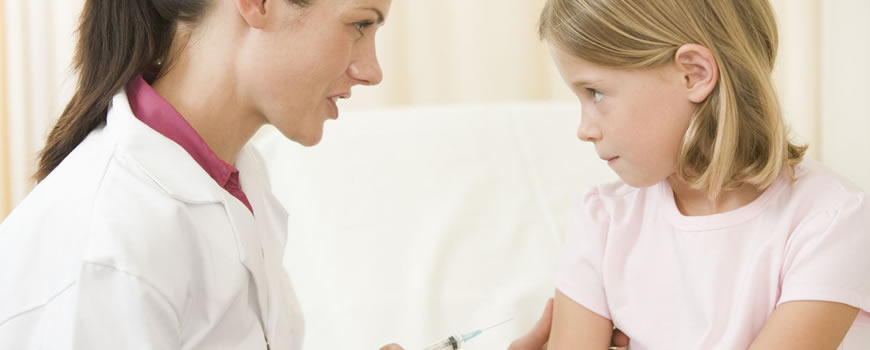 Give it a Shot!
We all want to give our children the best "shot" in life. That includes getting vaccinations on schedule. But even we parents get a little apprehensive about our children's vaccinations. So we end up thinking that delaying the vaccinations will help the situation. However, this only tends to aggravate the situation. In fact, the older your child gets, the more he or she may become anxious at the thought of these visits to the doctor. So, how can we help our little ones overcome their fears as well as ours?
1) Be honest: Let your child know ahead of time that he or she will be getting a shot at the next doctor's visit. You can acknowledge that the shot may hurt (like a pinch), but only for a admit to your child by letting them know
2) Try to relax: Even if you are a bit worried about the upcoming visit, be sure not to show your anxiety to your child. It may only exacerbate the situation.
3) Attempt to role play: Prepare your child even further by teaching him or her what to expect at the next appointment. Take a doctor's kit and let your child play doctor nurse. You can practice giving each other or even a stuffed animal a shot.
4) Avoid overly reassuring your child: This seems counterintuitive. However, when a parent tells their child not to worry or that everything will be okay, this is a surefire signal that there is something to worry about!
5) Put on a brave face: Children take their social cues from their parents, so make sure you put on a happy face and smile when you talk about the upcoming visit as well as during the visit itself.
6) Get creative: Take the focus off of the impending shot so that you can reduce your child's anxiety level. During the visit, try to distract your child with one of his or her favorite songs, stories, or toys.
7) Offer a reward: This is one of those moments in life where bribery is called for! Be sure to offer your child a small form of compensation for overcoming a moment of displeasure: stickers, candy or even a visit to the playground.
So don't delay!: Make your child's vaccination appointments on time and stick to them. Remember that these vaccinations are intended to ensure the health of your child and your family.