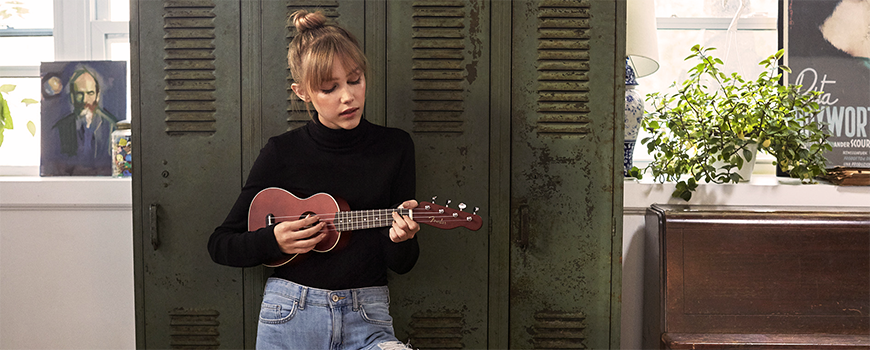 Grace VanderWaal inspiring younger generation of players
13 year old VanderWaal is a "pop prodigy"
Grace VanderWaal is inspiring a wave of younger artists and songwriters with her very own Signature Ukulele through Fender Musical Instruments Corporation (FMIC). Fender's popular artist signature models are geared toward product progression and storytelling, creating instruments designed to the unique specifications of the world's most iconic artists.
"We're excited to welcome Grace to Fender as a Signature Artist and launch of her Signature Ukulele in 2018. She is already beginning to leave her mark and we are pleased to be a part of her musical journey," says Andy Mooney, CEO, Fender. "We look forward to working together to inspire future generations of players (including my daughter, an aspiring ukulele player!)"
"Fender is the best at what they do. They've worked with so many amazing artists so it is an honor they would work with me to launch my own line of signature ukuleles next year!" states VanderWaal, winner of season 11 of NBC's America's Got Talent. "Designing these ukuleles will be such a fun process and I hope my fans love them as much as I do. It's been a dream to have my own custom uke that I can share with my fans so others around the world can share the power of music and learn to play too!"
At 13-years-old, VanderWaal makes history as not only the youngest Fender Signature Series artist ever, but the brand's first collaboration with a ukulele player. The California Coast Series Ukuleles present a fresh take on the classic ukulele with five new accessibly-priced soprano, tenor and concert models. The Seaside and Rincon models sport traditional 2×2 headstocks, while the Venice, Zuma, and Montecito models boast the instantly identifiable Fender Telecaster headstock. Responding to the rapidly growing popularity of the instrument, these ukuleles cater to musicians of all ages and skill levels, providing the perfect transitional stepping stone for aspiring guitar players and the chance for experienced guitar players to grow their palette of sounds and instrument collection.
Hailed by Rolling Stone as a "pop prodigy," VanderWaal's aptly-titled debut album Just The Beginning features WanderVaal as a songwriter on every song. She also worked with multiple award-winning producers and writers Ido Zmishlany (Shawn Mendes, Camila Cabello), Kinetics & One Love (Hailee Steinfeld), Greg Wells (Katy Perry, Adele), Gregg Wattenberg (Train, Phillips Phillips) and Sean Douglas (The Chainsmokers, Demi Lovato).