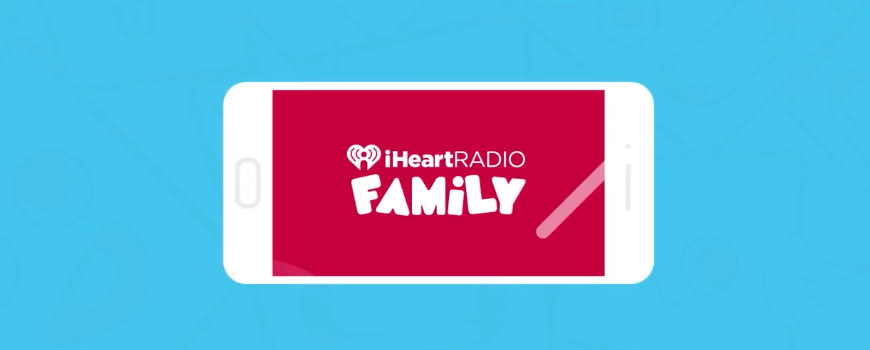 iHeartMedia, Build A Bear launch iHeartRadio Family app perfect for kids
iHeartMedia, the creator of iHeartRadio – the all-in-one streaming music and live digital radio service — has announced the release of a new, stand-alone app designed specifically for families with kids ages four through 11.
iHeartRadio Family, a new streaming music and storytelling app launched in partnership with Build-A-Bear Workshop, will offer access to dozens of iHeartRadio Originals and Live Radio stations in one easy-to-use app and marks iHeartRadio's first multi-app brand extension. Build-A-Bear Workshop is recognized as a global brand that kids love and parents trust, and iHeartRadio will bring that excitement into iHeartRadio Family with Build-A-Bear Workshop Radio, one of the new featured stations. The free app is available for smartphones and tablets in the iOS App Store, Google Play Store and Amazon Appstore.
iHeartRadio Family emerged from a collaborative "Hackathon" event organized by the iHeartRadio team to develop innovative new digital products, during which they identified the demand for having an app available for families that featured iHeartRadio's popular kids content and programming, all in one place for families to enjoy. Featuring a colorful custom-designed user interface just for kids, the app provides a simplified listening experience devoted specifically with families in mind.
"Ninety-three percent of Americans tune in to the radio each week and spend nearly three hours a day listening to their favorite music and stations," said Chris Williams, iHeartRadio's Chief Product Officer. "We know music is already a big part of family life, so we've hand selected the music and stations we know kids will love and put it all in one app designed for kids – the new iHeartRadio Family App."
Live, iHeartRadio Original and DJ hosted stations include Selena Gomez Guest DJ Radio, Nick Jonas Guest DJ Radio, 5 Seconds of Summer Guest DJ Radio, Radio Disney Junior, Kids Club Radio, iHeartRadio Family Top 30 Countdown, Acoustic Time Out, Sing-Alongs Radio, Wonderground Radio and several exclusive stations hosted by the Internet's most popular social media stars. iHeartRadio Family will also feature themed and seasonal live stations, like the popular North Pole Radio, which is hosted by Santa Claus and broadcasts now through the end of year.
Stations will feature music from today's most popular acts including Taylor Swift, Justin Bieber, Selena Gomez, Demi Lovato, Sam Hunt, Kelsea Ballerini, Dan + Shay and more, as well as beloved characters from hit shows on Disney, PBS and more. The iHeartRadio Family app is completely free with no capped listening.