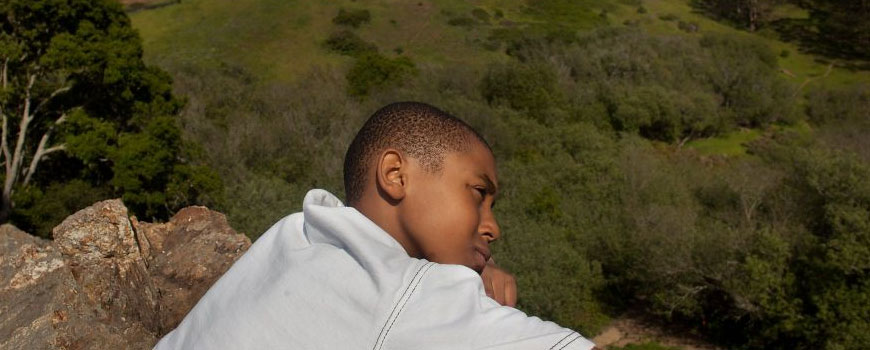 Kids with PTSD find help through adventure-based therapy
Kurdish:
لەسەر بنەماى چارەسەر- منداڵان لەگەڵ پەشێوى دڵەراوکێی دواى تاسان PTSD لە رێگاى سەرکەشى یارمەتى دەدۆزنەوە
هاوكارى كردنى منداڵ بۆ رووبەروبوونەوەى پەشێوى دڵەراوکێی دواى تاسان و نيشانەكانى – دڵەڕاوكێى زۆر، مەزاجێكى خێرا، كشانەوە، وە گرفتەکانى خەوتن –تا ڕادەيەك ئەمە بوارێکى نوێيە. ئەو بابەتە بوونى نەبوو تاکو ساڵى ١٩٨٧ كە كۆمەڵگەى پزيشكى بە شێوەيەكى فەرمى بریاریدا كە منداڵانیش دەناڵێنن بە دەست پەشێوى دڵەراوکێی دواى تاسان.
لە کاتێکدا زۆربەى منداڵان دەناڵێنن بە دەست هەندێک تاسان, لەو گەرەکە شارستانیەى کە تەندوتیژى تێدا روودەدات لە وڵات، نزيكەى سێيەكى منداڵان پەشێوى دڵەراوکێی دواى تاسانیان تێدا دەر دەكەوێ، بەگوێرەى شارەزایانى پڵە باڵا لە بوارى تاسانى منداڵ لە وڵات. ئەوە هەمان ئەو ڕێژەیە هەروەك دەبينرێت لە كۆنە جەنگاوەرى ڤيەتنام.
لەسەر بنەماى سەرکەشى- چارەسەرى دەروونى یارمەتى منداڵان دەدات لە چۆنیەتى مامەڵەدەکەن لەگەڵ پەشێوى دڵەراوکێی دواى تاسان PTSD, بونیاتنانى متمانە وە رەفتارکردن لەگەڵ دڵەراوکێ و ترس.
پیاوێک لە سان فرانسیسکۆ, کالیفۆرنیا, نەتەوە یەکگرتووەکانى ئەمریکا هەستاوە بە دروستکردنى بەرنامەیەکى هاوشێوەى بەرنامەى ئاووت وۆرد باوند (Outward Bound) کە یارمەتیدەدات بۆ زیادکردنى متمانە بەخۆبوون و بڕوا دروستکردن لە ناو گەنجان.
Arabic:
على اساس العلاج- الأطفال الذين يعانون من اضطراب ما بعد الصدمة (PTSD) يجدون المساعدة من خلال المغامرة
إن مساعدة الأطفال على مواجهة اضطراب ما بعد الصدمة و علاماتها – القلق المتزايد ، والمشاكل السريعة ، والانسحاب ، ومشاكل النوم – هو مجال جديد نسبيا. لم يحدث حتى عام 1987 أن أقر المجتمع الطبي رسميًا بأن الأطفال قد يعانون من اضطرابات ما بعد الصدمة أيضًا.
في حين يعاني العديد من الأطفال من بعض الصدمات ، في الأحياء الحضرية العنيفة في البلاد ، يقدر أن ثلث الأطفال يعانون من اضطراب الإجهاد اللاحق للصدمة ، وفقا لأعلى خبراء الصدمات الأطفال في البلاد. هذا هو نفس معدل المشاهدة في قدامى المحاربين في فيتنام.
يساعد العلاج النفسي القائم على المغامرة الأطفال الذين يتعاملون مع اضطراب ما بعد الصدمة (PTSD) على بناء الثقة والتعامل مع القلق والخوف.
أنشأ رجل من سان فرانسيسكو ، كاليفورنيا ، الولايات المتحدة الأمريكية برنامجًا مشابهًا لبرنامج ئاوت وۆرد باوند (Outward Bound) يساعد على زيادة الثقە بالذات والثقة في الشباب.
English:
Helping kids battle PTSD and its symptoms – heightened anxiety, a quick temper, withdrawal, sleep problems – is a relatively new field. It wasn't until 1987 that the medical community officially acknowledged that children could have PTSD, too.
While many children experience some trauma, in the country's violent urban neighborhoods, an estimated one-third of children develop PTSD, according to the country's top child trauma experts. That's the same rate as seen in Vietnam veterans.
Adventure-based psychotherapy helps kids dealing with PTSD build trust and cope with anxiety and fear.
A San Francisco, CA, USA man has created a program that's similar to Outward Bound that helps to increase self-esteem and confidence in youths.