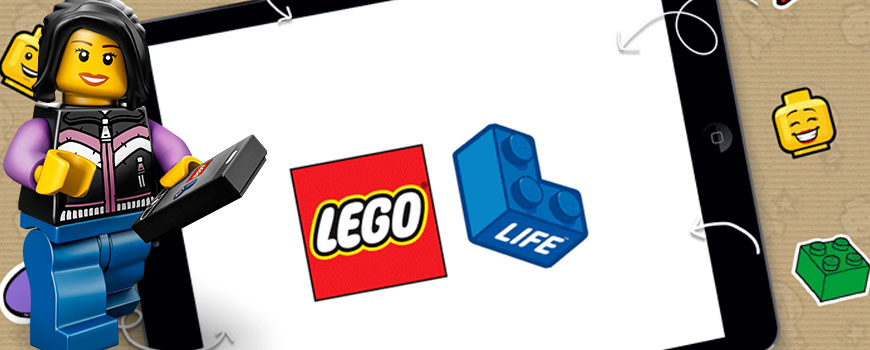 LEGO Life safe social media for kids under 13
Building on its experience with nurturing communities and extending its expertise in developing quality, child-friendly digital play experiences, The LEGO Group has launched LEGO Life, a safe social network for kids under the age of 13.
The app-centered digital experience allows young LEGO builders of all levels and interests to connect with a community of like-minded peers to express their creativity, share their LEGO creations, interact with LEGO characters, and inspire one another.
"The LEGO Group aims to develop digital experiences that complement and enhance LEGO play," states Rob Lowe, head of LEGO Life. "LEGO Life creates a platform that amplifies the joy of building and pride of creation that kids experience with tactile play through the digital world in a safe way – further unleashing creativity among kids and tweens on a much broader scale."
LEGO Life bridges physical and digital play experiences, innovating on the best of today's social network features to add a social layer to LEGO play. The LEGO Life app lets kids personalize their LEGO experience through direct interaction with their favorite LEGO characters, exclusive content, an in-depth 3D LEGO minifigure avatar creator, and fun building inspiration and challenges. LEGO Life also introduces a custom LEGO Emoji Keyboard with which kids and tweens can communicate about what they create in LEGO form, as well as comment on what their peers share.
"LEGO bricks are already established as a global visual language that kids understand and use to express themselves," explained Lowe. "The LEGO Emoji Keyboard takes this personalization one step further with a keyboard of recognizable emojis augmented by stickers and phrases that let kids engage safely within LEGO Life."
"The LEGO Group aims to develop digital experiences that complement and enhance LEGO play."
According to global research that informed the development of LEGO Life, 90 percent of kids surveyed are aware of emojis and their use in communication. When asked if they use emoji icons, approximately 40 percent of kids said "yes." By infusing a LEGO look and feel into familiar emoji vernacular, the LEGO Emoji Keyboard helps kids and tweens inspire and support each other even though their spelling and typing skills may be still developing.
Similar to mainstream social media platforms, LEGO Life delivers a newsfeed customized to user preferences. The app encourages kids and tweens to identify and "follow" topics of interest so that their feed is populated with relevant images, challenges and more. For example, kids can choose to follow groups dedicated to certain animals, vehicles, heroes, specific LEGO themes, seasonal programs or regional topics that they find most relevant.
Additionally, LEGO Life provides kids and tweens with inspiration and mentorship in fun and engaging ways. LEGO Master Builders will share creations and issue a variety of building challenges within LEGO Life to encourage building and sharing among the community. Characters such as Master Wu from LEGO NINJAGO, Emma from LEGO Friends and LEGO BATMAN will share building inspiration and will appear within the app to comment on member builds. New features will be continually added to the experience.
""LEGO bricks are already established as a global visual language that kids understand and use to express themselves."
As the network grows and expands, users will find other ways to customize their LEGO experience, such as earning rewards for their engagement in LEGO activities and the ability to inventory their LEGO collection, among many other things. LEGO Life will also be available through many other LEGO touchpoints to enable as many LEGO fans as possible to experience its potential.
LEGO Life is a safe social network for kids under 13. It is designed to be a child's first digital social experience, taking users by the hand and introducing them to some of the core concepts of a social network, all through the trusted values associated with the LEGO brand. As detailed in the Digital Safety section of LEGO Life, participants' safety is assured in several ways.
LEGO Life prevents kids from sharing personal information, images, or anything that could allow users to identify and locate one another. For example, when a user creates an account, he or she uses the random name generator to create a silly three word mix for a display name, such as "DukeCharmingShrimp" or "ChairmanWilyDolphin." In place of real or facial photos for LEGO Life profiles, users create their avatar by selecting the LEGO minifigure or minidoll of their choice, adding clothing, hair and more to create their virtual persona.
All content and comments on LEGO Life are monitored by LEGO employees who specialize in moderation to ensure that it is LEGO Life-appropriate and child-friendly. All moderators go through brand and child safety training, and the moderation team is located in LEGO offices around the world to ensure quality, always-on service. Use of the LEGO Emoji Keyboard replaces actual text when commenting on user-generated content. Commenting is tightly controlled and pre-moderated while emoji comments are post-moderated, keeping communication simple, universal, positive and fun.