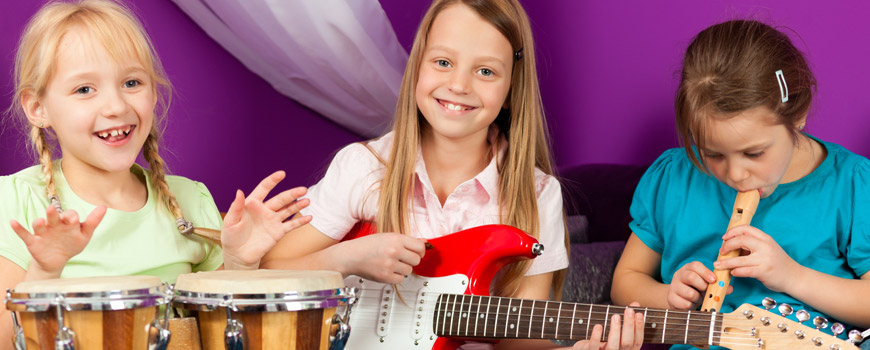 Music Therapy and Young Children
Music Therapy is the clinical and evidenced-based use of music interventions to accomplish individualized goals within a therapeutic relationship by a credentialed professional who has completed an approved music therapy program. Music therapy is a well-established allied health profession similar to occupational therapy and physical therapy. It consists of using music therapeutically to address physical, psychological, cognitive, behavioral and/or social functioning. Because music therapy is a powerful and non-threatening medium, unique outcomes are possible. With young children, music therapy provides a unique variety of music experiences in an intentional and developmentally appropriate manner to effect changes in a child's behavior and facilitate development of his/her communication, social/emotional, sensori-motor, and/or cognitive skills.
Music therapy enhances the quality of life. It involves relationships between a qualified therapist and child; between one child and another; between child and family; and between the music and the participants. These relationships are structured and adapted through the elements of music to create a positive environment and set the occasion for successful growth.
How Does Music Therapy Make a Difference with Young Children?
Music stimulates all of the senses and involves the child at many levels. This "multimodal approach" facilitates many developmental skills.

Quality learning and maximum participation occur when children are permitted to experience the joy of play. The medium of music therapy allows this play to occur naturally and frequently.

Music is highly motivating, yet it can also have a calming and relaxing effect. Enjoyable music activities are designed to be success-oriented and make children feel better about themselves.

Music therapy can help a child manage pain and stressful situations.

Music can encourage socialization, self-expression, communication, and motor development.

Because the brain processes music in both hemispheres, music can stimulate cognitive functioning and may be used for remediation of some speech/language skills.