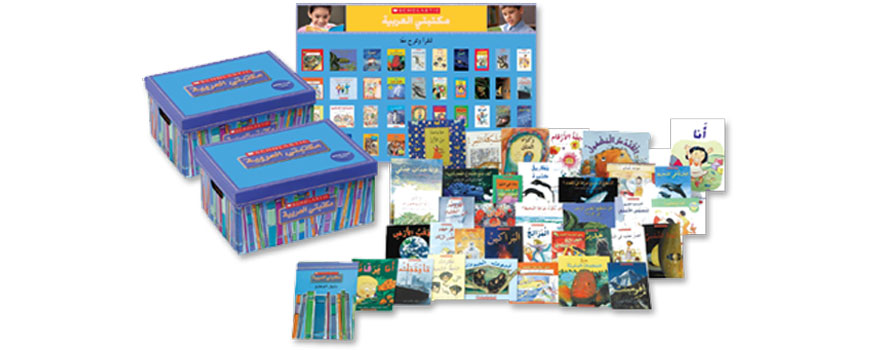 Scholastic expanding My Arabic Library for Pre-K & kindergarten worldwide
My Arabic Library for preschool and kindergarten includes 25 beloved titles adapted into Modern Standard Arabic, a comprehensive teacher guide, classroom activities, and more
Scholastic, the global children's publishing, education, and media company, has expanded My Arabic Library, the first leveled reading program available in Arabic for grades 1–6, to include educational materials for Pre-K and kindergarten classrooms. My Arabic Library for Pre-K and kindergarten includes 25 beloved titles that have been adapted into Modern Standard Arabic, a teacher guide that provides read-aloud instructions and curriculum suggestions for each title, and classroom activities.
"With the extension of the My Arabic Library program, we're excited to provide our youngest readers access to beautiful and engaging texts that include fun, humorous storylines, and characters that all children love," states Carol Sakoian, VP of International at Scholastic. "By offering these titles for Pre-K and kindergarten classrooms around the world, our hope is that we can continue to foster a love of reading and learning in children of all ages."
My Arabic Library has reached over ten million students in grades 1–6 in the U.S. and globally with the help of educators, governments, and non-profit organizations. The expansion of the program aims to provide Arabic language readers with access to age-appropriate fiction and non-fiction books to help foster a love of literature and to develop independent reading and critical thinking skills at an early age.
The 25 children's books in the program include:
How Do Dinosaurs Go to School? written by Jane Yolen and illustrated by Mark Teague
Grumpy Bird written and illustrated by Jeremy Tankard
Friendshape written by Amy Krouse Rosenthal and illustrated by Tom Lichtenheld
Penguins on Vacation written and illustrated by Salina Yoon
Little Plane Learns to Write written and illustrated by Stephen Savage
Golden Domes and Silver Lanterns: A Muslim Book of Colors and Crescent Moons and Pointed Minarets: A Muslim Book of Shapes written by Hena Khan and illustrated by Mehrdohkt Amini.