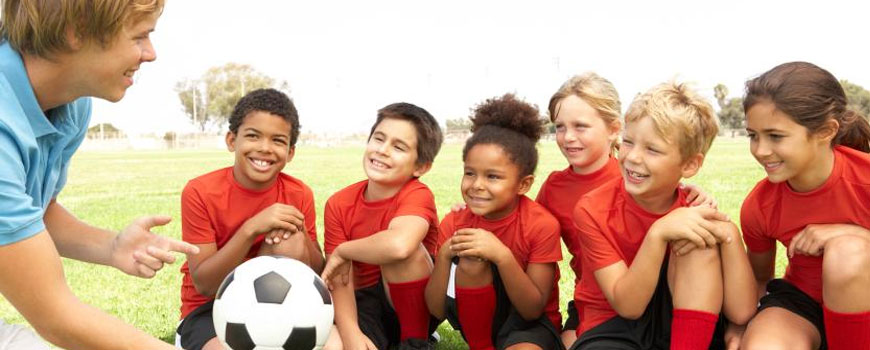 Sports Can Help Kids Do Better Academically
Kurdish:
وەرزش دەتوانێ یارمەتى منداڵان بدات لە رووى ئەکادیمى باشتربن
توێژینەیەوەیەک ئەنجامدراوە لە لایەن کۆلیژی ئەمریکى بۆ پزیشکى وەرزشى (ACSM ) پەیوەندى لە نێوان چالاکى جەستەیی لە منداڵان و ئاداى ئەکادیمى لە قوتابخانە. سەرەتا, توێژەران پێشبینیان کرد کە ئەو منداڵانەى پەروەردەى جەستەیی ئەنجام دەدەن لە رۆژانى قوتابخانە لە رووى ئەکادیمى باشترن, لەبەرئەوەى وەرزش یارمەتى منداڵان دەدات لە کەمکردنەوەى بێزارى وە مانەوەى بەشێوەیەکى جێگیر.
توێژینەوەکە, بڵاوکراوەتەوە لە رۆژنامەى فەرمى کۆلیژی ئەمریکى بۆ پزیشکى وەرزشى (ACSM ), پزیشک و زانست لە وەرزش و راهێنان, تاقى کردنەوەیان ئەنجامداوە لە سەر 214 منداڵی قوتابخانەى ناوەندى. گشت قوتابیان بە شێوەیەکى هەڕەمەکى دەستنیشان کراون بۆ پۆڵى پەروەردەى جەستەیی PE ئینجا چ لە یەکەم یان دووەم وەرزى خوێندنى ساڵى قوتابخانە بێت. توێژەران زانیاریان کۆکردەوە لەسەر ئاستى چالاکى هەر قوتابیەک لە ناو پۆڵ و دەرەوەى پۆڵى پەروەردەى جەستەیی PE, وە بەراورد پێکردنى ئاستى چالاکیان لەگەڵ پڵەکانیان لە بابەتەکانى بیرکارى, زانست, توێژینەوەى جیهان و ئینگلیزى.
بە سەرسامیەوە, توێژەران دۆزیانەوە ناونوس کردنى منداڵان لە پۆڵى پەروەردەى جەستەیی PE (چالاکى مامناوەند بۆ 30 خوڵەک, 5 رۆژ لە هەفتەیەکدا) کارناکاتە سەر پڵەى منداڵەکان. رێنماییەکانى ئەجینداى هێلثى پیوپڵى 2010 Healthy People 2010  رادەسپێرێت بە ئەنجامدانى چالاکى گەرم و گوڕ بۆ ماوەى 20 خوڵەک بە لایەنى کەم هەفتەى 3 رۆژ. ئەو توێژینەوەیە دەریخست کە ئەو منداڵانەى زۆر چالاکن وەک بەشداریکردن لە وەرزش یان چالاکى گەرم و گوڕى تر, لە قوتابخانە باشتر دەبن. زۆربەى ئەو منداڵانەى چالاکى گەرم و گوڕ ئەنجام دەدەن لە دەرەوەى قوتابخانە, لە رێگاى ئەنجامدانى وەرزشى تۆپى پێ ى ئەمریکى, تۆپى سەبەتە, تۆپى پێ, بەیسبۆل و سۆفت بۆل.
Arabic:
يمكن أن تساعد الرياضة الأطفال بشكل أفضل أكاديميا
حققت دراسة أجرتها الكلية الأمريكية للطب الرياضي (ACSM) في العلاقة بين النشاط البدني عند الأطفال والأداء الأكاديمي في المدرسة. في البداية ، تنبأ الباحثون بأن الأطفال الذين أخذوا التعليم البدني (PE) خلال اليوم الدراسي سيكون أفضل أكاديمياً ، لأنه يساعد على الحد من الملل ويساعد الأطفال على البقاء مركزين.
الدراسة ، التي نشرت في المجلة الرسمية لـ الكلية الأمريكية للطب الرياضي ACSM ، الطب والعلوم في الرياضة والتمارين ، درست 214 طفلاً في سن المدرسة المتوسطة. تم تعيين جميع الطلاب بشكل عشوائي لفئة التعليم البدني (PE) في الفصل الدراسي الأول أو الثاني من العام الدراسي. جمع الباحثون معلومات عن مستوى نشاط كل طالب داخل وخارج فئة التعليم البدني (PE) ، وقارنوا مستوى نشاطهم مع درجاتهم في موضوعات الرياضيات والعلوم والدراسات العالمية والإنجليزية.
من المستغرب أن الباحثين وجدوا أن قيدهم في التعليم البدني (PE) (نشاط معتدل لمدة 30 دقيقة ، 5 أيام في الأسبوع) لم يؤثر على درجات الأطفال. توصي إرشادات هیلثى بیوبیل لعام 2010 Healthy People 2010   الحكومية بنشاط قوي لمدة 20 دقيقة ، على الأقل 3 أيام في الأسبوع. أظهرت هذه الدراسة أن الأطفال الأكثر نشاطًا كانوا ، مثل المشاركة في رياضة أو نشاط قوي آخر ، كلما كان ذلك أفضل في المدرسة. معظم الأطفال الذين مارسوا التمارين "بقوة" فعلوا ذلك خارج المدرسة ، من خلال ممارسة الرياضة مثل كرة القدم وكرة السلة وكرة القدم والبيسبول والكرة اللينة.
English:
A study conducted by the American College of Sports Medicine (ACSM) investigated the link between physical activity in children and academic performance in school. Initially, researchers predicted that kids who took physical education (PE) during the school day would do better academically, since it helps reduce boredom and helps kids stay focused.
The study, reported in ACSM's official journal, Medicine & Science in Sports & Exercise, examined 214 children of middle school age. All students were randomly assigned to a PE class in either the first or second semester of the school year. Researchers collected information on each student's activity level in and outside of the PE class, and compared their level of activity to their grades in the subjects of math, science, world studies and English.
Surprisingly, researchers found that being enrolled in PE (moderate activity for 30 minutes, 5 days per week) did not influence the children's grades. The government's Healthy People 2010 guidelines recommend vigorous activity for 20 minutes, at least 3 days per week. This study showed that the more active children were, such as participating in a sport or other vigorous activity, the better they did in school. Most of the children who did exercise "vigorously" did so outside of school, by playing sports like soccer, basketball, football, baseball and softball.