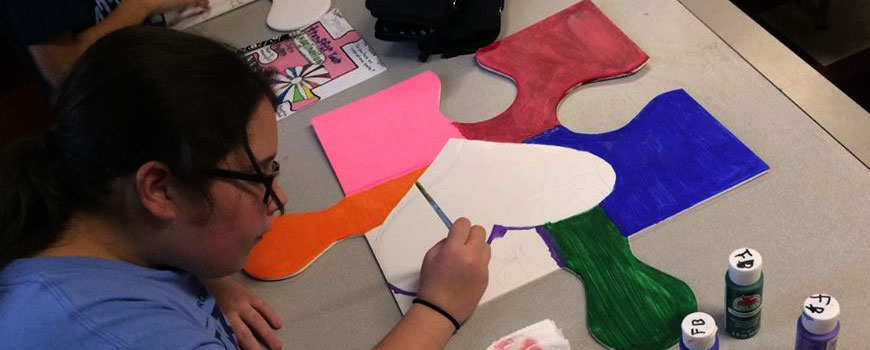 The Puzzle Project helps kids and teens get creative through art
A Brooklyn-based graphic designer has combined puzzle-making with art in what has become a massive exhibit around the world with aspiring artists. The Puzzle Art Installation and Collaborative Project is a dynamic growing and traveling, group art exhibition. Artists, young and old, have contributed their individual voice collectively with other artists to form this historic puzzle art project.
Artist Tim Kelly is a Brooklyn-based graphic designer who helped found The Puzzle Project at an arts festival in New Jersey. He says the project "is a simple way for each of us to tell our own story."
The Puzzle Art Installation and Collaborative Project exists as proof that art is essential to life. The impact of the installation is testament to the fact that art is a powerful form of expression that cannot be denied.
More than ten thousand unique puzzle pieces have been made in more than 20 states and ten countries on three continents. The project has inspired schools, community centers and galleries to participate. Universities, high schools, elementary schools and after-school programs from across the country and around the world have participated in the Puzzle Project.
Many support groups have utilized the Puzzle Project for healing. The fun, safe, non-threatening creative environment makes for an effective outlet for expression and catharsis. Artists with learning and behavioral problems really get art and the Puzzle Project. They are some of the most focused and motivated participants in the world-wide collaboration.
"Everybody starts with a blank piece of canvas, which is 24 inches by 24 inches, everyone starts with the same art supplies, but as you can see, from there, that's when everything changes," Kelly tells New York's NY1. "The collaborative power of all these meaningful pieces create a great installation."
The puzzle pieces are assembled together into a massive jigsaw puzzle art installation.
"At 5,000 pieces it would be nine feet tall by 1,250 feet wide," says Kelly. That's the height of the Empire State Building in New York City.
The project is ongoing. For those who want to find out how they can contribute, contact Kelly.